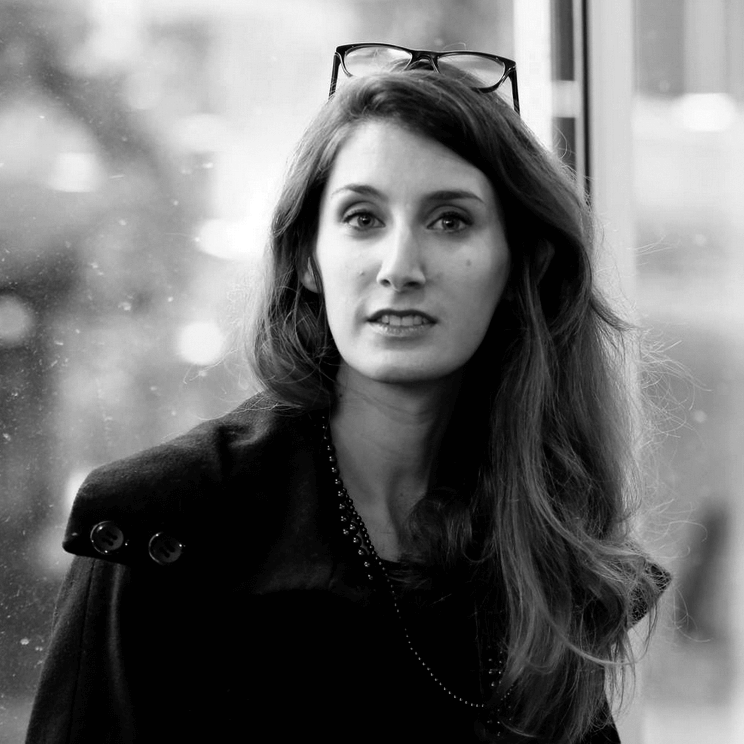 Née à Bordeaux, Leslie Epsztein est designer graphique spécialisée en projection lumière. Après un passage à l'école Emile Cohl et une licence en Arts du spectacle,
elle obtient un diplôme de concepteur en communication visuelle à l'ECV à Paris.
En 2010, elle intègre l'agence du peintre vidéo Xavier de Richemont avec qui elle collaborera pendant 5 ans sur des projets lumières internationaux (Mexique, Colombie, Allemagne, Pologne…).
En 2015, Leslie décide de développer des projets plus personnels en tant que designer graphique indépendant.
Elle collabore avec diverses agences de projections monumentales et travaille pour Chartres en Lumières ainsi que la Fête des Lumières de Lyon.
Elle co-réalise avec Camille Gross, «Voyage», sur la Gare St Paul en 2016, projet qui s'exporte à l'été 2017 sur le Teatro Sucre de Quito, en Equateur puis sur Picadilly Circus, au festival Lumière London à Londres en janvier 2018.
Leslie est artiste ambassadeur de la Fête des Lumières de Lyon depuis 2018.
Born in Bordeaux, Leslie Epsztein is a french designer specialized in projection mapping. After studying at the Emile Cohl School and graduating (Bachelor) in Performing Arts, she obtained a master degree in visual communication at ECV Paris.
In 2010,  she joined video painter Xavier de Richemont's team, with whom she worked on international lighting projects  for 5 years.
In 2015, she decided to develop more personal projects as an independent designer. She collaborates with several agencies in monumental projection.
She worked for "Chartres en Lumières" and "La Fête des Lumières" in Lyon in 2016, where she co-produced "Voyage" with Camille Gross on St Paul's station. The project also travelled to Quito, in Ecuador, in the summer 2017 before London in January 2018.
Leslie is artist ambassador "Fête des Lumières de Lyon " since 2018.

Projets / projects
S O U F F L E
Cathédrale de Laon / FR
(Août 2022)
C H R O N O S
Ogden Centre – Durham / UK
(Novembre 2021)
C O N N E C T  :  A r t e  N a t u r a e
Church of Sts Therese – Lodz / Pologne
(Septembre 2021)
F L O R E N T I S
Hotel de Ville – Vincennes / France
(Décembre 2019)
E L E M E N T A
Hotel de Ville – Avignon / France
Festival Helios (Août 2019)
with Camille Gross
V O Y A G E S
E X T R A O R D I N A I R E S
Hotel de Ville – Epernay / France
(Décembre 2018)
C é l e s t e
Place du Midi – Sion / Suisse
(Hiver 2018/2019)
with Camille Gross
V O Y A G E
with Camille Gross
– on Hotel Café Royal in Picadilly Circus
Lumiere London / London, GB (2018)
– on Teatro Sucre
Fiesta de la Luz / Quito, Ecuador (2017)
– on Gare St Paul
Fête des Lumières / Lyon, France (2016)
A R T E M
Place du Midi – Sion / Suisse
(Hiver 2017/2018)
with Camille Gross
M O D O   A S T R O L A B I U M
Musée des Beaux-Arts de Chartres
Chartres en Lumières (2016/2017)
P I S C I N E   R .  S A L E N G R O
5e anniversaire du Bassin minier
Bruay-la-Buissière, France (2017)
for Daniel Charpentier, set designer.