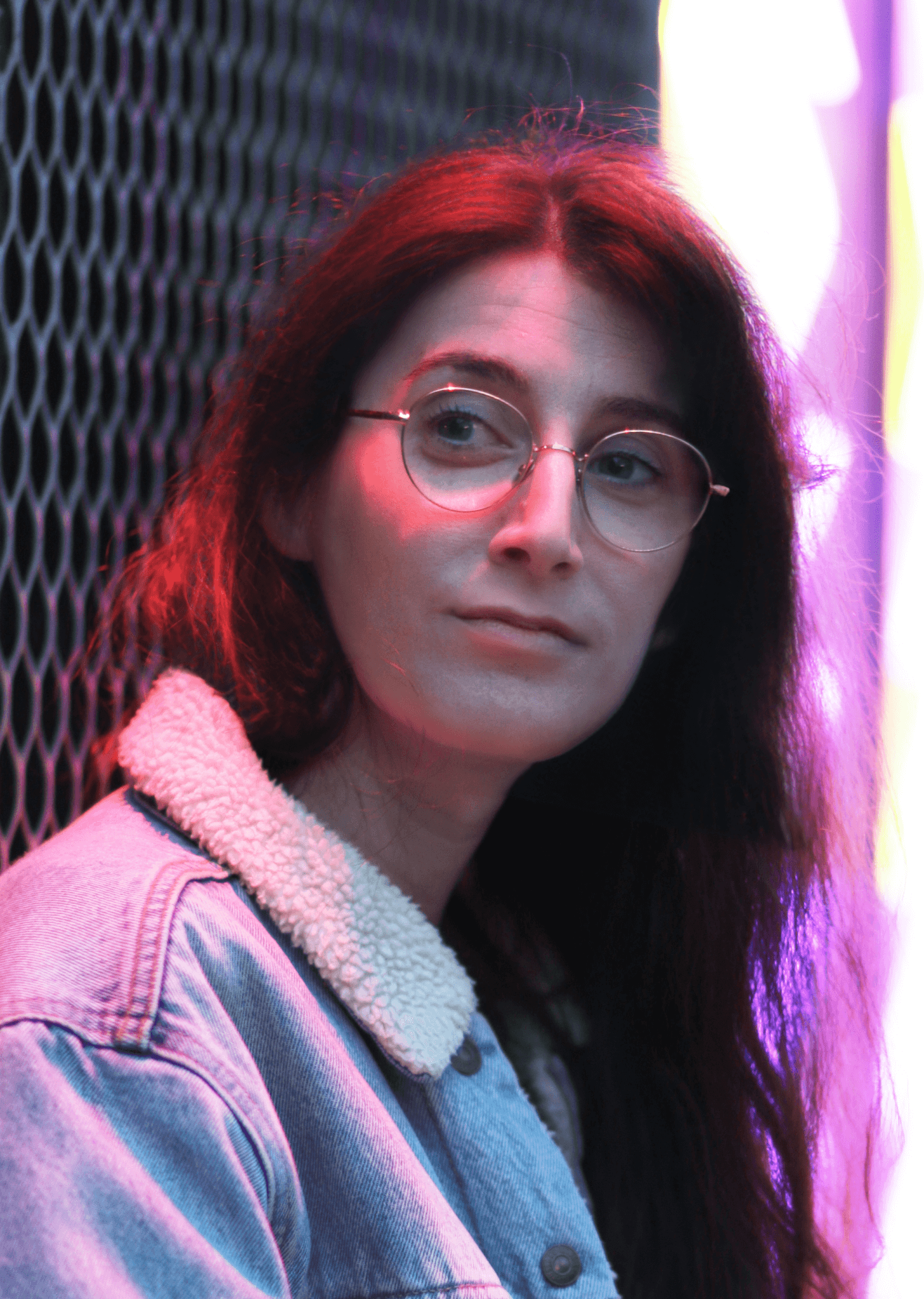 Née à Bordeaux, Leslie Epsztein est designer graphique spécialisée en projection lumière. Après un passage à l'école Emile Cohl et une licence en Arts du spectacle,
elle obtient un diplôme de concepteur en communication visuelle à l'ECV à Paris.
En 2010, elle intègre l'agence du peintre vidéo Xavier de Richemont avec qui elle collaborera pendant 5 ans sur des projets lumières internationaux (Mexique, Colombie, Allemagne, Pologne…).
En 2015, Leslie décide de développer des projets plus personnels en tant que designer graphique indépendant.
Elle travaille pour Chartres en Lumières et la Fête des Lumières de Lyon et co-réalise avec Camille Gross, «Voyage», sur la Gare St Paul en 2016, projet qui s'exporte à l'été 2017 sur le Teatro Sucre de Quito, en Equateur puis sur Picadilly Circus, au festival Lumière London à Londres en janvier 2018.
Depuis, Leslie partage ses projets entre commandes et créations, en duo avec Camille Gross ou en solo, à destination de villes et de festivals. Ses thématiques de prédilection: l'espace et le temps, les sciences, l'onirisme et les mythologies qu'elle aime allier à l'histoire de l'Art et aux éléments culturels des lieux traversés.
Formée au dessin, au cinéma et au design graphique, elle aime combiner des approches à la fois picturales et graphiques en portant une attention particulière à la rythmique narrative et musicale de ses projets.
Born in Bordeaux, Leslie Epsztein is a french designer specialized in projection mapping. After studying at the Emile Cohl School and graduating (Bachelor) in Performing Arts, she obtained a master degree in visual communication at ECV Paris.
In 2010,  she joined video painter Xavier de Richemont's team, with whom she worked on international lighting projects  for 5 years.
In 2015, she decided to develop more personal projects as an independent designer.
In 2016, she worked for "Chartres en Lumières" and "La Fête des Lumières" in Lyon, where she co-produced "Voyage" with Camille Gross at St Paul's station. The project also travelled to Quito, Ecuador, in the summer of 2017, before returning to London in January 2018.
Since then, Leslie's projects have alternated between commissions and creations, for cities and festivals, in duo with Camille Gross or as a solo artist.
Her favourite themes are time, space, science, dreams and mythologies, which she likes to combine with art history and the cultural elements of the places she visits.
With a background in drawing, cinema and graphic design, she likes to combine both painterly and very graphic approaches in her relationship with the image, paying particular attention to the narrative and musical rhythm of her projects.
Projets / projects
C H A P Ô  !
Chazelles / FR
(Août 2023)
S O L S T I C E S
Fréjus / FR
(Dec 2022)
S E N S E ( S )
Bright Festival Leipzig / Germany
(Oct 2022)
B R E A T H
Alexander Nevsky Cathedral / Poland
(Sept 2022)
with Camille Gross
S O U F F L E
Cathédrale de Laon / FR
(Août 2022)
with Camille Gross
C H R O N O S
Ogden Centre – Durham / UK
(Novembre 2021)
with Camille Gross
C O N N E C T  :  A r t e  N a t u r a e
Church of Sts Therese – Lodz / Pologne
(Septembre 2021)
with Camille Gross
F L O R E N T I S
Hotel de Ville – Vincennes / France
(Décembre 2019)
E L E M E N T A
Hotel de Ville – Avignon / France
Festival Helios (Août 2019)
with Camille Gross
V O Y A G E S
E X T R A O R D I N A I R E S
Hotel de Ville – Epernay / France
(Décembre 2018)
C é l e s t e
Place du Midi – Sion / Suisse
(Hiver 2018/2019)
with Camille Gross
V O Y A G E
with Camille Gross
– on Hotel Café Royal in Picadilly Circus
Lumiere London / London, GB (2018)
– on Teatro Sucre
Fiesta de la Luz / Quito, Ecuador (2017)
– on Gare St Paul
Fête des Lumières / Lyon, France (2016)
A R T E M
Place du Midi – Sion / Suisse
(Hiver 2017/2018)
with Camille Gross
M O D O   A S T R O L A B I U M
Musée des Beaux-Arts de Chartres
Chartres en Lumières (2016/2017)
P I S C I N E   R .  S A L E N G R O
5e anniversaire du Bassin minier
Bruay-la-Buissière, France (2017)
for Daniel Charpentier, set designer.